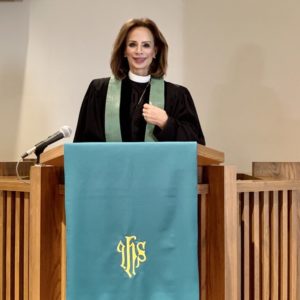 Kris is a native Texan.  She is a graduate of Austin Presbyterian Theological Seminary. She has served congregations in Texas, Louisiana, and Arkansas for the past twenty five years.   Her gifts are high energy, a thirst for life, and a deep desire for joy and laughter.  With the heart of a pastor, the gratitude of a forgiven sinner, and the joy of a child loved by a gracious God, Kris wants to celebrate and be in communion with people who acknowledge we are broken and flawed, yet forgiven and freed for joyful service and life-giving grace!
Kris has a deep appreciation for our Reformed tradition and our Presbyterian roots.  She enjoys making new friends and her goal as a transitional pastor is to be transparent, vulnerable, approachable, teachable, warm, strong, and clear as she engages in the task of teaching, preaching, and providing pastoral care.
Kris is married to The Reverend Stan Larson.  Stan is the pastor of Holy Trinity Lutheran Church (ELCA) in Shreveport, LA.   They share three adult children, the oldest son, John, is married (Amy) with two daughters and they live in Katy, Texas.  Their oldest daughter, Carly, is married (Eric) with two sons and they live in Houston, Texas. Their youngest daughter, Tara, is married (Tyson) and they have a son and they reside in Tatum, Texas.
Kris and Stan enjoy walking, grilling outdoors, reading and watching TV with their Maltese dog, Grace, and playing with their grandchildren Kimberly (8 years) and Caroline ( 5 years), Conrad (5 years), Charlie (3 years) and Knox (2 years).